Our Conference Center occupies the 1865 First National Bank building in the heart of historic Old City Philadelphia.
With over 8,000 square feet of flexible rooms and spaces to rent, our venue is an ideal location for meetings, conferences, and special events. Our experienced event planners and audiovisual team will work with you to plan your in-person and hybrid events.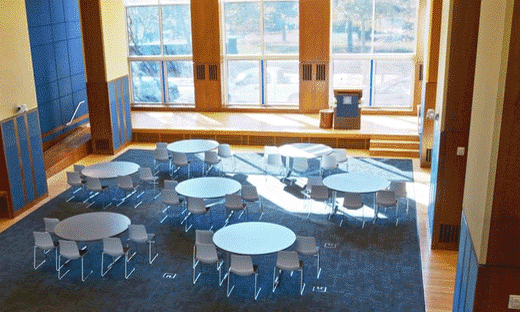 See Our Spaces
Our eight dynamic Conference Center rooms are equipped with state-of-the-art audiovisual equipment, high-speed connectivity, and a range of configuration possibilities. Tech managers, on-site event staff, and full-service catering are readily available.
FAQ
We have eight meeting rooms and additional flexible space for exhibitors, receptions, dinners, and more. Learn about our spaces and see the floor plan page for room dimensions and capacities.
Rental fees include high-speed internet access, tables, and chairs. Our larger rooms also include screens and high definition projectors. Our tech team will be happy to work with you to design and implement any additional AV requests. All rental fees include non-dedicated onsite tech services, building engineer, event coordinator, and service staff.
Please contact us at 215.629.5158 or complete the online inquiry form. We also recommend setting up a site visit to see the space.
We require a signed contract and a deposit equal to the room rental rates. Deposits are refundable depending on when cancellation occurs.
Yes, we require the use of our in-house food and beverage menu. Outside caterers from our approved vendor list may be considered for full-service, special events.
The Science History Institute Museum is open to the public and Conference Center guests Wednesday through Saturday from 10am to 5pm. Special arrangements can be made to have the museum open later for private events. Food and beverages are not permitted in the museum.
Yes, a wheelchair-accessible pedestrian gate is available at our parking lot entrance on 3rd Street between Chestnut and Market Streets. Visit our Accessibility page for more information on visitor and guest accommodations.