Gordon A. Cain
With a chemical engineering diploma in hand, Cain began a professional career that would include managing major petrochemical companies and rescuing troubled chemical enterprises.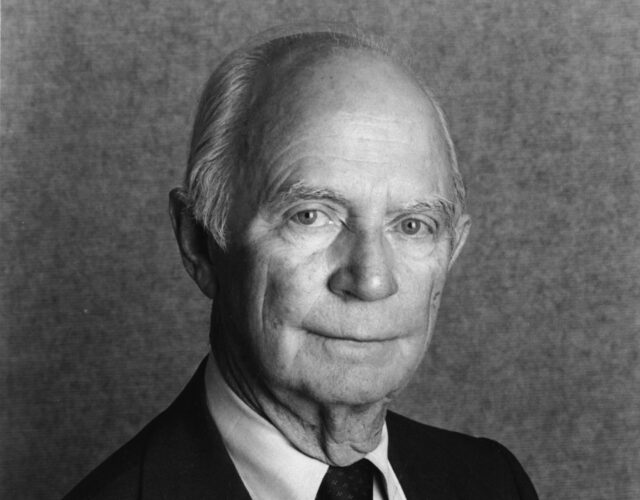 After a lifetime of management in the petrochemical and chemical sectors, Gordon A. Cain forged a second career as a successful venture capitalist and entrepreneur, acquiring and restructuring businesses primarily in the commodity chemicals industry.
The success of his business dealings profoundly affected management practices in the chemical industry.
Choosing a Career
Cain (1912­−2002) was born in Baton Rouge, Louisiana, where as a young boy he witnessed the havoc created by the boll weevil in the cotton industry. He attended Louisiana State University (LSU) and received his BS in chemical engineering in 1933. Although his father was a chemist, Cain's choice of majors was influenced by his research into employment opportunities: Cain found that chemical engineers had higher starting salaries than other professions for which he might be suited. During his college years he also joined the ROTC, becoming fascinated with military strategy.
Early Jobs
Graduation and the Great Depression coincided, and Cain's first job was an unfulfilling stint with the Louisiana Power and Light Company; but he hit pay dirt with his next job—as an engineer for the Freeport Sulphur Company. There he developed and patented a sulfur burner still used around the world today. He also spent a year in Cuba developing a process to recover manganese from Cuban ore and a year in Nevada prospecting for molybdenum. Then during a luncheon of the American Institute of Chemical Engineers, Cain's fortuitous encounter with the director of engineering at Merck and Company led to a new path, working on the design and construction of plants for the production of sulfa drugs and synthetic vitamins. World War II had created a huge demand for these products.
Introduction to LBOs
Cain soon felt compelled to enlist: because of his ROTC commission he entered the army as a captain, put in command of a heavy mortar company. The war interrupted his career but gave him his first experience with management. After active duty in the Pacific, Cain again accepted a job with Freeport Sulphur, which lent him out to the U.S. Department of Commerce to perform scientific intelligence in postwar Germany.
Cain's next move was to join FMC Corporation, looking for businesses to acquire. After helping create Petro-Tex Chemical Company, Cain ran the operation, although he was never the official head. Petro-Tex was followed by an offer from Conoco to run its petrochemical business. Cain took the job and began to expand the company through leveraged buyouts (LBOs).
Venture Capitalism
He stayed with Conoco for several years but became restless and finally decided to leave. Within days Cain was approached by some investment-banker friends who needed help with troubled investments. His career managing troubled enterprises lasted for the next 10 years. The purchase of Vista Chemical was the first LBO in the chemical industry.
Cain also bought an ethylene plant in Corpus Christi and joined it with six other ethylene-related plants into Cain Chemical just as the ethylene business was entering a boom. He then sold Cain Chemical in less than a year for $1.2 billion.
An unprecedented visionary, Cain profoundly affected management practices in the chemical industry, successfully acquiring and restructuring Arcadian, Cain Chemical, Fiber Industries, Sterling Chemicals, and Vista Chemical, among others, using high-risk debt instruments, or "junk bonds." Each LBO resulted in a win for management, workers, investors, and the general economy through management strategies pioneered by W. Edwards Deming and through employee stock ownership. In 1982 he cofounded the Sterling Group, a merchant banking firm that sponsored and invested in leveraged acquisitions, principally in the petrochemicals industry.
Recognition
Cain received the 1988 Winthrop-Sears Medal and the John Fritz Medal. He was the first-ever recipient of the Petrochemical Heritage Award in 1997, and he was inducted into the Texas Business Hall of Fame in 1990.
Featured image: Science History Institute.