Between Us and Catastrophe
Our first outdoor exhibition showcased portraits of the pandemic's essential workers by photographer Kyle Cassidy.
On view October 2020–August 2021
Building Façade
When the COVID-19 pandemic spread and lockdowns began in March of 2020, photographer and Philadelphia resident Kyle Cassidy recognized that we were living through a historic moment. But he also recognized that for many people, especially those working on the front lines of the pandemic, the moment might pass by without a record of our everyday experiences.
Cassidy's project, Between Us and Catastrophe, was created to capture the challenges and changes faced by essential workers across the region.
This outdoor exhibition—our very first—featured large-scale versions of Cassidy's portraits installed on our Chestnut Street façade.
Portrait Series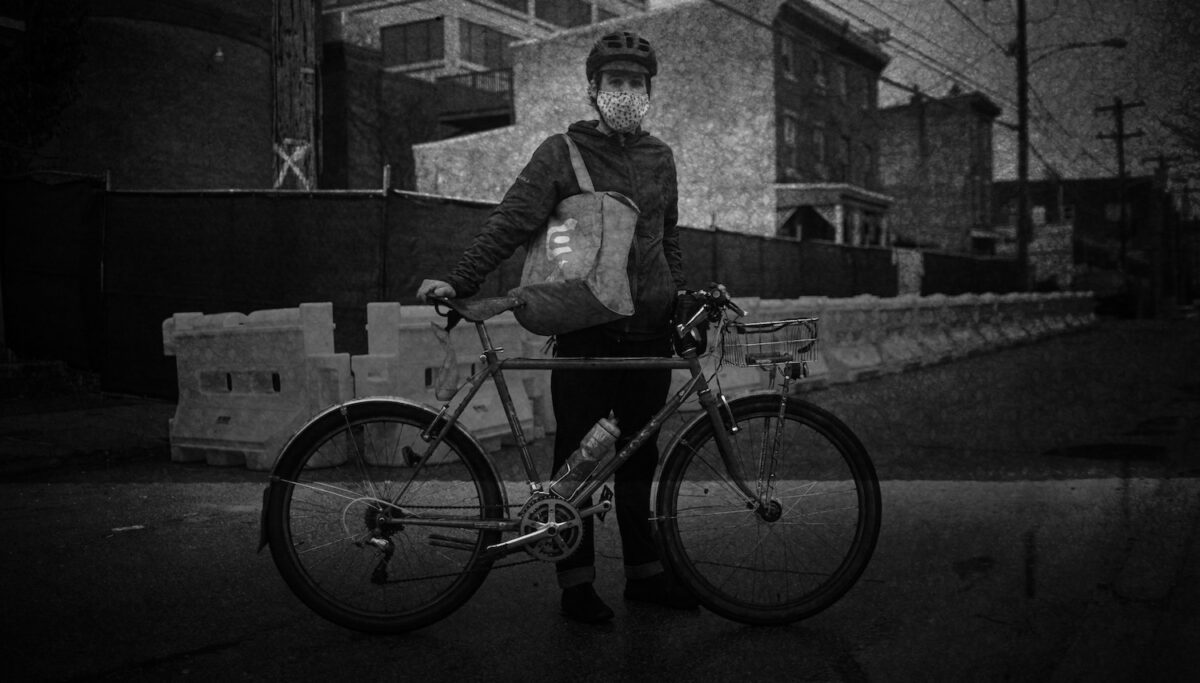 "Sitting home doing nothing would have driven me mad," Cassidy says. "To feel that somebody out there is fighting your fight for you, and there's nothing you can do to help."
As a photographer, he could put faces to the crisis and shed light on the many different kinds of workers and helpers keeping us going. Originally, this project focused on doctors and nurses, but as the shutdown progressed, Cassidy realized there were far more individuals working to keep us all alive—from food shoppers and mask makers to sanitation workers and bicycle delivery people.
These are the people standing between us and catastrophe.
Audio Guide
Listen to a special audio accompaniment to the exhibition produced by our own Distillations podcast team that features exclusive interviews with Cassidy and the essential workers of the portrait series.
Pandemic Perspectives Podcast Series
Throughout the pandemic, our podcast team conducted interviews with leading figures in the world of biotech and medicine as part of the Science History Institute's Pandemic Perspectives series. These interviews offered a fresh perspective on the COVID-19 crisis and the race for a vaccine. A podcast episode of the Between Us and Catastrophe interviews was included in the series.
Exterior exhibition and postcard design by Michael Derian.